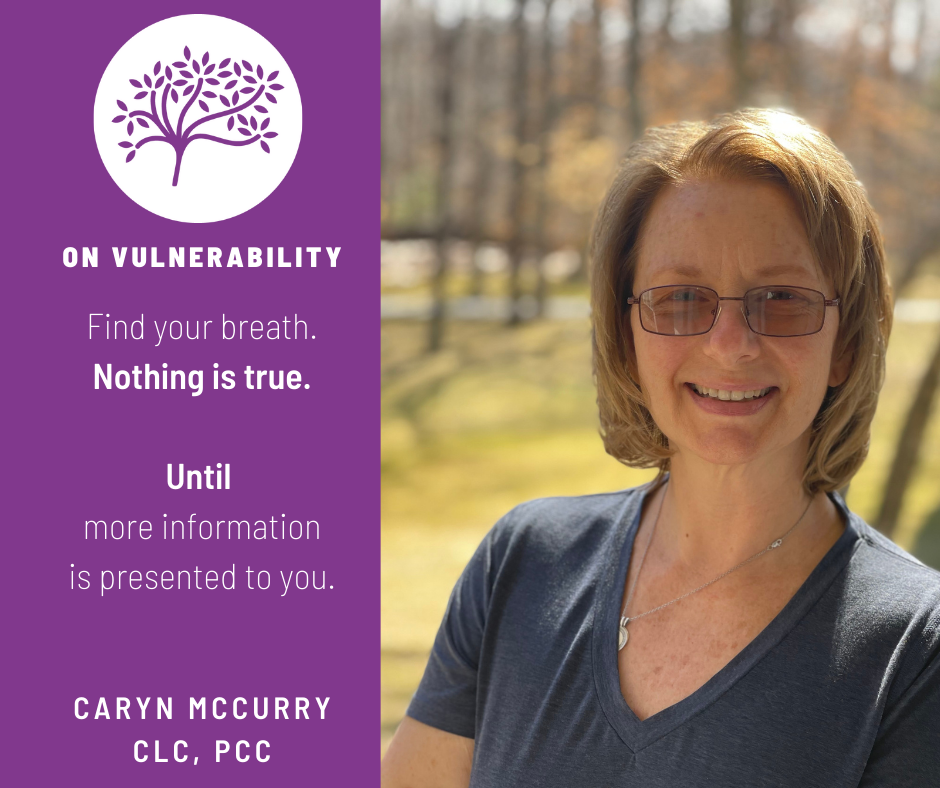 I feel vulnerable when I share my personal stories.
At the same time, I don't want to feel alone in my journey, especially when it's frightening.
Fear and I have been tangoing through life since I can remember and I recognize that you cannot go around fear but must go right through it. Allowing oneself to be vulnerable creates opportunity and space for tremendous connection.  That's why I'm sharing a poem I wrote during one of my most vulnerable moments ever: "What is Happening to Me, Inside My Head?"  
A pain inside me
from front to back
It's sharp and it's lasting
it comes and it goes

What's the source?
No one knows
Off to the doctor
I go for a look
Nothing appears to be amiss
I've had the pain for so long
I need to know, what is the cause
Exploring further, I will not pause
A test he ordered
An ultrasound to see
The matter or problem
Inside of me
The gel was warm
The tech was nice
She offered no info
Not even a slice
Three hours later
A call I did get
From a doctor, whom never I've met
They see a mass on my pancreas
It's still unclear what it is
My world stopped spinning
My heart began to pound
Around me was nothing
Not even a sound
Find your breath
Nothing is true
Until more information
Is presented to you
My thoughts swerve left
My panic twists to the right
What will this be
How will I fight
Must be prepared
To know what to do
Stop! Do nothing now
Until you know what is true
Old dear friend, Fear you are here
Filling my thoughts and bringing my tears
Dashing my dreams and taking my strength
Telling me stories
Of loss and absence
Go for a test in a tube with no space
It's hard to stay still, but my breath calms my pace
Stay still inside
Arms over your head
No moving
corpse pose
Act like you're dead
My husband, my knight
My boys, my pride
I am protected as they stand guard outside 
Will I get to grow old, will I get to see them grow too
I wait
I wait
I wait
I wait
The morning of
I stretch for ease
The tears they come
I curl in a ball
I softly rest
my face in my hand
Comforting, cradling
My father's image
Comes to mind
It's his hand holding
My face as I cry
His palms so huge
So gentle his touch
He cradles my cheek
I feel so small
I feel him
and I find peace
I catch my breath
Collect myself
And begin
The next moment
The results have come
I'm afraid to look
How damaged are my insides
My world has shook
What are the answers
What will be
I cling to the earth
From the roots of my tree
I have….
Now I know
What will I do
Where will I go
Down to my depths
I look for the strength
To take the next step
Discover the length
The duration of time
For who I will be
Here on the planet
You and me
To live again
The world is mine
No more concern
of what they might think
I am who I am
Don't miss me, I'm here
Gone in a blink
I found the answer
The meaning of life
To be here now
with the ones whom I love
It's the shedding of doubt
which fits like a glove
Today I begin
on the long road ahead
To the days that will follow
Inside my head
A note from Caryn:  Thankfully, I'm ok. Nothing to worry about. The fear of the unknown is a shared experience we all have at one point or another. It's about the vulnerability we feel when we're concerned something is not right.